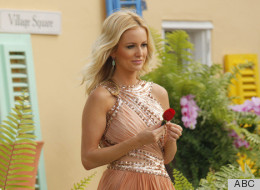 When Emily Maynard was chosen to be the Bachelorette, we were pumped about the visual feast that would await. No, not her perma-tan and shiny blonde hair, although those are each sights to behold. It was Emily's clothes we were psyched to see, given how stylish the Southern belle had been on her past season with Brad Womack.
With the finale finally wrapped up (and with Emily riding off into the sunset with Jef), we can finally say with certainty: this season did not disappoint when it came to fashion. Despite a few missteps in the hair department and some overdone eye makeup, Emily regularly nailed it when it came to her wardrobe. The 26-year-old mom favored sky-high heels, one-sleeve dresses, high slits and a dose of sparkle... but she balanced it out with country-fied boots, sleek blazers and the occasional leather jacket to toughen things up.
Plus there was a headband or two, some off-the-shoulder tees and just a few bikinis (this is part of the "Bachelor" franchise, after all). And with only a few notable exceptions, we were big fans of it all.
Check out the sartorial highlights of Emily's season of "The Bachelorette" below, including the finale. Bonus: we've added a few of winner Jef Holm's best fashion moments too, because damn can that guy dress. Even Emily loved those skinny jeans...

Loading Slideshow
Episode 1

The color is great, the pageant hair is not.

Episode 1

Episode 1

SUCH. BIG. HAIR.

Episode 2

We die for this casual sweatshirt. Emily in mom mode is by far our fave...

Episode 2

Baggy sweatshirt and skinny pants? Emily has the same off-duty uniform as us.

Episode 2

The one-shoulder isn't our favorite, but this dark magenta is a great color for Emily.

Episode 2

Emily said herself this is one of her most favorite dresses she's ever worn. But we're not as keen on it ourselves... there's a lot of embellishment going on.

Episode 2

Strapless top, bustling skirt, layers of fabric and crystal embellishments up the front... there was a lot going on with this dress.

Episode 3

Denim shorts with leather boots? Emily's outfit is country strong.

Episode 3

Loving the arm party, Emily.

Episode 3

We're loving Emily's casual green stripes.

Episode 3

The loose top with the denim cutoffs is a park-perfect outfit.

Episode 3

We're not loving the Peter Pan-like tie at the top, but Emily's sequin mini worked with the basic blouse.

Episode 3

Those sequins! Those slits! Emily's going for gold here.

Episode 3

Sexy neckline, Em...

Episode 3

Pulling an Angelina with the slits, are we?

Episode 4

Emily's tie-dye maxi dress is super breezy and island-appropriate.

Episode 4

Maxi dress from the back.

Episode 4

This loose-knit sweater is understated and lovely.

Episode 4

It wouldn't be an Emily outfit is there wasn't a bit of skin showing...

Episode 4

Emily looks so cozy in this striped sweater.

Episode 4

This shirt paired nicely with the bright white pants...

Episode 4

White pants in a cave? Brave move, Emily.

Episode 4

Emily finally surrenders! The heels must come off! Also, nice leather jacket.

Episode 4

Sorry but that hair cannot all be real.

Episode 4

Necklace overload?

Episode 4

Uh oh, VPL (visible panty lines)...

Episode 4

Jef! In knee socks! Boldest sartorial move out of all the men, bar none.

Episode 5

Jef's sweatshirt-with-buttondown is good... but his pompadour is GREAT.

Episode 5

At first we were weirded out by Emily's fringed booties in London. But the more we looked at them, the more we liked them...

Episode 5

This is clearly Emily's urban chic look.

Episode 5

Emily's brown-trimmed trench and leather gloves are undoubtedly stylish.

Episode 5

Loving the leather jacket with the sophisticated white sheath.

Episode 5

Could Emily's heels be any higher?

Episode 5

Emily's crisp white trench balances out her glammed-up, bejeweled dress. Plus, can we take a moment to appreciate Jef's color coordination, particularly in regard to the pocket square?

Episode 5

The most epic, swoon-worthy line ever uttered on "Bachelorette": "If Ricki's baggage... then she's a Chloe handbag that I want to have forever."

Episode 5

Another one-sleeve, another high slit.

Episode 5

Check out that arm bling! A little much, we think...

Episode 6

Yes, those are Jef's pristine Converse sneaks in the corner.

Episode 6

A little sparkly for daytime, don't ya think?

Episode 6

This skirt is just plain adorable.

Episode 6

We're coveting this jacket.

Episode 6

MEN IN SKIRTS.

Episode 6

Emily's eye makeup looked particularly excellent on this date with Travis.

Episode 6

Unlike many petite women, Emily looks great in wide-legged pants.

Episode 7

The layers and colors blend harmoniously.

Episode 7

Don't look so worried, Em -- your pea coat is awesome.

Episode 7

With the crisp edges and neutral colors, Emily brought her cosmopolitan flair to Prague.

Episode 7

Emily, unsurprisingly, balances the conservative top off with lil' sparkly shorts.

Episode 7

The shorts up close. We actually sort of love them.

Episode 7

Jef repeats his black skinny tie, whips out a new pocket square. We fall further in love.

Episode 8

Sweet arm party.

Episode 8

Cream-colored dress, leather belt and leather boots = perfect outfit for shootin' and drivin'.

Episode 9

Can someone teach us how to do this sort of braid?

Episode 9

Can we discuss the perfection that is Jef's swimsuit length? Most men go too long, some men veer too short. Je's swim trunks? Just right, natch.

Episode 9

A glam ballgown skirt with a basic tank? Yes, please! Plus kudos on getting creative with jewelry repeats, Emily.

Episode 10

This pink is the perfect color for Emily's Curacao-tanned skin.

Episode 10

Look how straight and long Emily's hair is! It looks SO much better this way.

Episode 11

Maxi dress perfection.

Episode 11

We love the color of Emily's coverup, but with all those slits flying up, it was barely serving a purpose.

Episode 11

The top was slightly more embellished than we'd prefer, but overall this Jean Fares dress was a stunner.

Episode 11

Happily ever after!

Episode 11

Look at Emily's long straight hair! Someone's extensions are working overtime. Plus, check out Jef's contrasting pocket square. Emily picked the most stylish man on the show.

The Men Of 'The Bachelorette' Open Up

The Men Of 'The Bachelorette' Open Up
Want more? Be sure to check out HuffPost Style on Twitter, Facebook, Tumblr and Pinterest.
"; var coords = [-5, -72]; // display fb-bubble FloatingPrompt.embed(this, html, undefined, 'top', {fp_intersects:1, timeout_remove:2000,ignore_arrow: true, width:236, add_xy:coords, class_name: 'clear-overlay'}); });