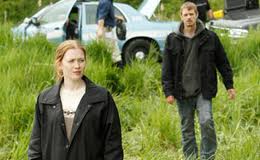 Two crime solvers who couldn't seem to get in gear
 
 
It seemed to take forever to find out who killed Rosie Larsen. And maybe that's why we didn't have to wait to find out who killed The Killing. AMC did.
The cable channel issued a statement this afternoon announcing: "After much deliberation, we've come to the difficult decision not to renew The Killing for a third season."
The mystery series set in Seattle and based on a Danish miniseries, drew rabid attention when it debuted. It was moody, cinematic and filled with remarkable performances. But some viewers tired of what they felt was a very halting narrative pace with episodes that didn't seem to advance the story.
The plot was built around the murder of a high school girl and the days following the discovery of her body in a submerged car. It focused on her bereft parents, the investigating detectives and an idealistic mayoral candidate.
When the first season ended without solving the central crime, there was a considerable uproar among viewers who felt they had been fed a diet of red herrings. Those who stuck around for a second season saw the same cycle repeating: great performances but long dilatory episodes with no significant developments. (The finale drew 1.4 million viewers. The first season began with an audience of 2.7 million and ended with 2.2 million)
AMC has only cancelled one series prior to this, Rubicon. What may have sunk The Killing as much as the numbers was the lack of Emmy recognition. Mireille Enos and Joel Kinnaman who played the homicide detectives were both overlooked in the lead actor categories, and Billy Campbell and Michelle Forbes were spurned for supporting. No respect, no ratings, no third season.
 
Read more Dave on Demand or follow him on Twitter @DaveOnDemand_TV