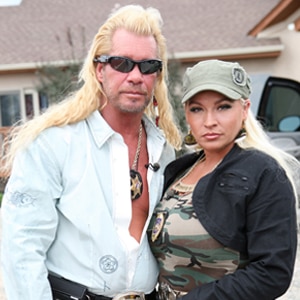 Scott Gries/A&E
Duane "Dog" Chapman can go back to focusing on the chase.
Despite originally planning on a ninth go-round, A&E has canceled Dog the Bounty Hunter after eight seasons, the network confirmed Monday to E! News.
The gritty reality show followed Chapman, a Hawaii and Colorado-based bail bondsman, and his extended family as they tracked down folks on the run from the law and dealt with their own legal and personal issues.
No particular reason for the cancellation has been given, but, a few years ago, Dog the Bounty Hunter almost didn't make it to a fifth season.
MORE: Sheriff Slams Duane "Dog" Chapman for "Profit-Driven Peacockery"
A&E suspended production on the show for roughly six months after a recording of Chapman repeatedly using the N-word during a phone conversation was leaked to the media in 2007.
Chapman, his son Leland and partner in criminal-capturing Tim Chapman (no relation) were busted by federal authorities in 2006 in connection with their foray into Mexico to fetch convicted rapist Andrew Luster, but extradition proceedings ultimately fell through.
Leland and his brother Duane Lee left the family business last yearâ€"they insisted that they quit, but Chapman's wife Beth appeared to fire them in an episode that aired in March.
The family most recently made headlines when they stated that they had been the target of death threats and the FBI was investigating.