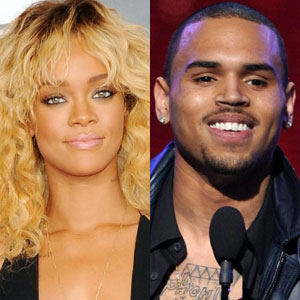 Jason Merritt/Getty Images; John Shearer/WireImage
Does this mean there won't be any more collaborations?
Just days after Rihanna wished her ex, Chris Brown, a happy birthday via Twitter, the two are now no longer following each other.
So what happened?
MORE: So True? So False? Was Rihanna Really Rushed to the Hospital?
Well, when Brown released a freestyle version of Kanye West's "Way Too Cold" (formerly "Theraflu") last night, he could be heard rapping, "Don't f--k with my old bitch/It's like a bad fur/Every industry n---a done had her/Shook the tree like a pumpkin just to smash her/Bitch is breaking codes, but I'm the password."
Speculation quickly began to run rampant that Brown was referring to Rihanna, who may very well have thought the same thing seeing how she immediately unfollowed him.
Soon after, Brown himself stopped following Rihanna, as well as tweeting out the following regarding the rumors: "Assumptions! I didn't say any names so if u took offense to it then it's something you feel guilty about."
All of this comes less than three months after the two joined forces on remixes of each other's songs.