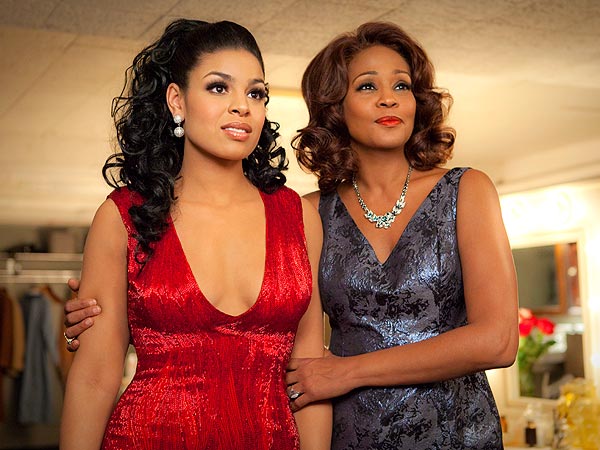 Jordin Sparks (left) and Whitney Houston
Sony

 

 

 

 
I walked in hoping Sparkle would be reminiscent of Dreamgirls â€" a flashy flick about a singing trio in the 1960s with show-stopping musical performances, glittering gowns and, well, sparkle. That was not the case. Not even close.
Jordin Sparks plays Sparkle, a meek songwriter in Detroit with a secret ambition to be "bigger than Diana [Ross]." Though her controlling mother (the late Whitney Houston, in her final performance), has forbidden her from going into music, Sparkle secretly convinces her sisters, Dolores (Tika Sumpter) and Sister (Carmen Ejogo), to form a trio.
After their first taste of success, the women grapple with the dark side of fame â€" in other words, the clichéd battle with drugs and an abusive man.
While the film's melodrama is laughable (after Sister's comedian beau, played by Mike Epps, flops at a club, the two run â€" in slow-motion â€" to the car), the real problem is that it's unclear who the main character is supposed to be.
Though the title suggests Sparkle is the star, the plot mostly revolves around Sister, at least until the end, when the movie is wrapped up in a sappy bow. Sister is more of a performer than Sparkle â€" meaning she suggestively grips a microphone like nobody's business â€" but the stunning Ejogo, but the stunning Ejogo, who delivers a chilling performance and gives her catchy solos her all, just doesn't have the vocal chops that Sparks does..
Eventually Sparks, the 2007 winner of American Idol, gets her due. But let's be honest: People will line up to see Sparkle for one last glimpse of Whitney Houston, who may sound raspier than in her heyday but still commands the screen.
Just don't expect Houston â€" the most awarded female performer of all time â€" to sing much. She sings once. Once! She also does a duet with Sparks for the soundtrack, though it doesn't feature in the film.
And while her role as a former hard-living singer is at once a highlight and an eerie premonition of things to come, her character is frustratingly underdeveloped.
If Dreamgirls was a diamond, Sparkle is a cubic zirconia: It feels like a cheap imitation of the real thing.