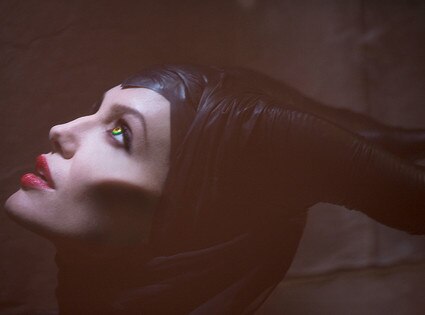 2012 Disney Enterprises, Inc./Greg Williams
Villainy becomes her.
The first image of Angelina Jolie as Maleficent has been released, and it's enough to send fear (not to mention, buzzy anticipation) into the hearts of moviegoing men and women the world over.
Appropriately dark and sinister, the shot shows Jolie with the Sleeping Beauty sorceress' telltale horns, blood-red lips and yellow eyes, and was released to mark the start of the Disney reimagining's long-awaited production in a kingdom not too far, far away...
MORE: Watch Angelina's Heartfelt PSA for World Refugee Day
Specifically, a united kingdom. Or rather, the United Kingdom.
Walt Disney Studios announced today that production on the reworked fairy tale began on June 13 in the British countryside.
In addition to Jolie, Elle Fanning, Sam Riley, Miranda Richardson, Sharlto Copley, Imelda Staunton, Juno Temple and Lesley Manville are starring in the film, which is more or less the untold origin story of the eponymous villain, and tells the tale of just how Maleficent's heart hardened and turned her into the sorceress who cursed baby Aurora.
Unfortunately, we're going to have to wait quite a while to find out exactly how that happened: The 3-D (of course) film is due for release on March 14, 2014.