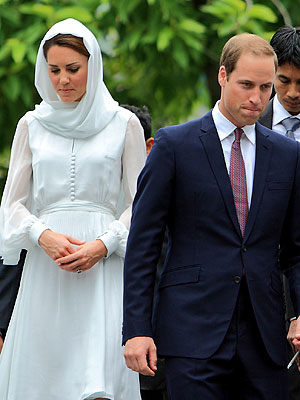 The Duchess and Duke of Cambridge
Landov
The
Duke
and
Duchess of Cambridge
have won their
first legal battle
in an attempt to block further publication of photos of the Duchess
sunbathing topless
while on vacation in France.
The photos must not be published again, a French court ruled Tuesday, according to the BBC. And Closer magazine, which was the first to obtain and print them, was ordered to give the originals to the couple within 24 hours.
A royal source said, "They welcome the injunction that's been granted. They always believed the law was broken and that they were entitled to their privacy."
The ruling applies only to France. The Irish Daily Star and the Italian magazine Chi have already republished the photos â€" the latter in a 26-page section on Monday.
British newspapers, so far, have refrained from printing the photos. But on Monday in Dublin, the publishers of the Irish Daily Star released the following statement: "Independent Star Limited has suspended editor Michael O'Kane with immediate effect, pending an investigation into the circumstances that led to the Irish Daily Star re-publishing pages from the French magazine Closer, which contained images of the Duke and Duchess of Cambridge."
The statement went on to say: "Independent Star Ltd. has no further comment pending conclusion of the joint investigation by the newspaper's shareholders."
William and Kate, though keeping a brave face during the embarrassing episode while on a tour of Asia, have also filed a criminal complaint against Closer and will be seeking damages, a spokesperson for Clarence House said on Monday.
French attorney Vincent Tolédano, a specialist in media law tells PEOPLE, "Closer" cannot publish these images any longer. Now it is up to the criminal investigation to try and determine who the photographer is. In court, Closer maintained they didn't own the rights to the images, and now it is up to the police ... to investigate and determine the particulars."
He added, "There are freedom of press and protection of sources issues in play now."
• Reporting by PHIL BOUCHER, PETER MIKELBANK and SIMON PERRY