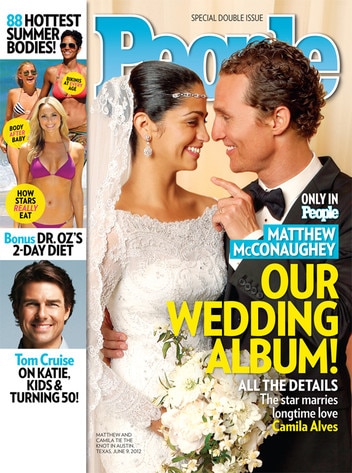 People Magazine
Talk about picture perfect!
Just four days after Matthew McConaughey and Camila Alves tied the knot, we're finally getting our first glimpse of the beautiful bride and handsome groom on their big wedding day.
MORE: Five Things to Know About Matthew McConaughey and Camila Alves' Wedding
And the newlyweds clearly only have eyes for each other, as evidenced by the latest cover of People.
"We decided to embrace the ritual of marriage as an opportunity and adventure we'll take together," Matthew tells the magazine.
The two exchanged vows on Saturday at their home in Austin, Texas, with about 120 people in attendance, including Woody Harrelson, Reese Witherspoon, John Mellencamp and, of course, the couple's two kidsâ€"Levi, who turns 4 next month, and 2-year-old Vida.
"Levi has asked me many times over the years, 'Mama, why am I a McConaughey but you aren't?'" says Camila, who is taking Matthew's last name. "They are both very excited. Somehow they both seem to understand what we are doing on a spiritual level."
Adds Matthew, "It's a union between ourselves and God. A covenant for us, our children and the world."
Congrats again...to the entire McConaughey clan!