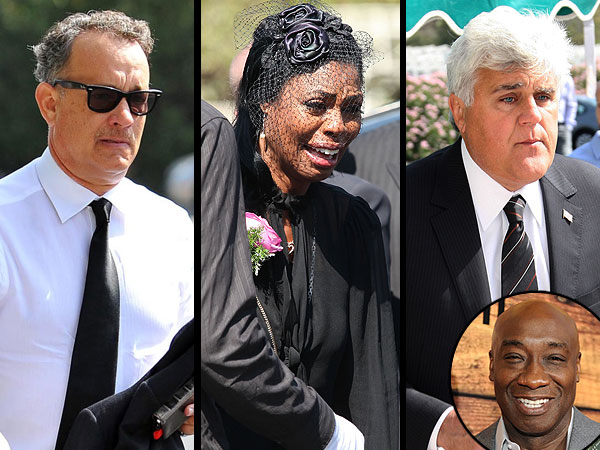 Tom Hanks, Omarosa Manigault, Jay Leno, inset: Michael Clarke Duncan
Ramey; Splash News Online; Getty (2)
Michael Clarke Duncan
, the Oscar-nominated star of
The Green Mile
, was most commonly described as having a "big heart" during his memorial service at Forest Lawn in Los Angeles on Monday.
Bones and The Finder creator Hart Hanson spoke of fans asking for hugs, not autographs, from the 6-ft., 5-in., 300-lb. actor.
But Jay Leno was one of the first to get choked up while speaking of Duncan.
"In this cynical world of Hollywood, here was a guy who was happy for every job he got," said Leno. "Just to see such a pure heart and pure kindness ... and to see him taken so early, there really are no sadder words than what might have been."
Between heavy sobs, Duncan's fiance Omarosa Manigault lightened the mood when remembering the pick-up line he'd used when meeting her at a grocery store.
" 'Aren't you that mean girl from The Apprentice?' " she said. "And then he worked every single day of our relationship to change that perception of me. The man you knew as an actor was my best friend."Â 
The two had planned to marry in Gambia, West Africa, in December. Duncan, who died on Sept. 3 after two months of treatment for a heart attack, was 54.
As an imprisoned convicted murderer in the 1999 hit film The Green Mile, John Coffey was Duncan's breakout role. Said author Stephen King, "No one has ever done a character I wrote more justice."
Tom Hanks, who also attended the service, spoke in dedication to both Duncan and his mother, Jean Duncan, who sat front and center.
Other attendees included The Green Mile director Frank Darabont, Holly Robinson Peete, Bones costars David Boreanaz and Emily Deschanel, The Finder costar Geoff Stults, singers Angie Stone, Shanice, Kenny Lattimore and Stevie Wonder, who sent a video message.