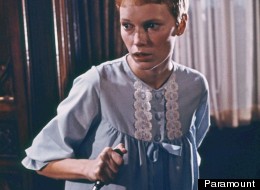 "The Master," Paul Thomas Anderson's newest film, was partially inspired by Scientology and its founder, L. Ron Hubbard. In "The Master," Philip Seymour Hoffman plays Lancaster Dodd, a charismatic cult leader who teaches his followers that their past lives hold the key to their current salvation. (Yes, lives.) Never mind that Dodd's group, called The Cause, doesn't seem to have any actual evidence to back those claims up -- it's their belief that guides the way.
"The Master" is hardly the first film to look at cults and their effect on people. Recent films like "Martha Marcy May Marlene" and classics like "Rosemary's Baby" have also tackled the topic with great success.
Ahead, the best -- and, at times, creepiest -- films about cults.
Loading Slideshow
'The Master' (2012)

"Good science, by definition, allows for more than one opinion. Otherwise you merely have the will of one man. Which is the basis of cult." Paul Thomas Anderson's "The Master" doesn't deconstruct Scientology the way many thought; instead it presents the religion like many others: One with impassioned followers who have unwavering beliefs in their leader.

'The Sound of My Voice' (2011)

This cult film-cum-time travel thriller starred Brit Marling as an enigmatic leader who may or may not have come from the future.

'Martha Marcy May Marlene' (2011)

John Hawkes plays a terrifying cult leader (is there any other kind?) in this Sundance Film Festival favorite about a young woman who escaped the clutches of a dastardly group. Or did she?

'The Village' (2004)

Not a traditional cult, the group at the center of "The Village" -- spoiler alert -- pretends they live in the 19th century to avoid the dangers of modern society. Their leader (played by the always creepy John Hurt) uses costumed monsters to keep his people on edge.

'Holy Smoke' (1999)

"Titanic" star Kate Winslet plays a young woman brainwashed by a cult in this Jane Campion film.

'Eyes Wide Shut' (1999)

Like in "The Village," the cult at the center of "Eyes Wide Shut" isn't traditional. You know this because of their crazy masked group-sex parties.

'Fight Club' (1999)

"His name was Robert Paulson." The members of the fight clubs in "Fight Club" were most certainly part of a cult ... they just weren't allowed to talk about it.

'Indiana Jones & The Temple of Doom' (1984)

Cover your heart.

'Rosemary's Baby' (1968)

Rosemary's baby ... is actually the anti-Christ. Which just goes to show that you should never trust your neighbors, especially when they double as a Satan-worshipping cult.
Related on HuffPost:
"; var coords = [-5, -72]; // display fb-bubble FloatingPrompt.embed(this, html, undefined, 'top', {fp_intersects:1, timeout_remove:2000,ignore_arrow: true, width:236, add_xy:coords, class_name: 'clear-overlay'}); });