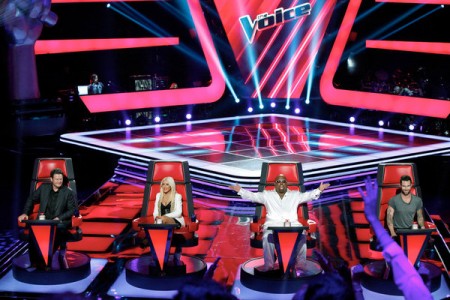 by: Todd Betzold
Season 3 of The Voice kicked off strong last night, as we saw each of the coaches add two singers to their teams. This season, however, the coaches will all have 16 acts on their teams, so pull up a chair, these Blind Auditions are gonna take a while.
The first singer of the night is Adriana Louise, 22 from Brooklyn, NY. She has been waitressing to pay the bills, but music is her world and feels music saved her life. There was a kidnapping incident with her family when she was nine and music is the only that saved her after it happened. She sings "Domino" and she starts strong, which Cee Lo and Adam like and both turn right around. Christina and Blake join in later and we have a four-chair turnaround! I'm over everyone having a sob story, but she is a beautiful girl. Christina said they belong together. Blake said it made him smile, but Christina said it made her smile bigger and she believes in her already. Adriana chooses to join Team Christina.
The next singer is Casey Muessigmann. He is a singer and a wrestler, but was hurt while wrestling and his life was in shambles and it pushed him back to music. He sings "Sweet Home Alabama" and has good tone, but is it strong enough? It took a little time, but he gets Blake to turn around. Cee Lo joins him shortly after and Casey gets stronger on stage. He is very confident on stage and jokes with the coaches, so I like him. Cee Lo you gave this song country swagger and it had soul too and it interests him. Blake said his voice is strong, but that ass-spanking is what did it for him. Casey said he wanted to make great country music with Blake, so he goes Team Blake.
Up next is Aquile, 24 from San Diego, CA. He is a full-time musician with four or five gigs a week. When he was 19, he was hit in the jaw and it was broken and he had his jaw wired shut for six weeks. He sang with his jaw wired shut, so he is a fighter. He sings "Your Song" and he has a great voice. He is easy on the eyes too, so that doesn't hurt his case. Christina and Adam turn right around. Cee Lo turns around right on the very last note. Adam said it was so good from the very first note. Christina said she got him as a vocalist and kinda wants a private concert. Cee Lo said he got an instant gratification from his voice and he sees all the potential and he is on board. In the end, Aquile picks Team Christina, so that is two for her tonight.
Next up is Ryan Fogarty, 28 from Nashville, TN. He is a tour production coordinator for LeAnn Rimes, but now it is his chance to shine on stage. He sings a Chris Young song, but none of the coaches turn around for him. Blake said Chris Young is like a little brother to him and he was comparing him to him and was hoping for something more.
We get a quick look at some singer who didn't make it, but then we take a look at Mackenzie Bourg, 19 from Lafayette, LA. He contracted a virus a year and half ago that started shutting down his organs. His heart failed and he was put on a feeding tube. His parents said they were watching their son pass away. He said his heart is better for the most part and now he has a passion for sharing his gift with other people. He sings "Pumped Up Kicks" and he starts out strong. I think he has a look all the girls would love and would fit well with Adam. He gets Cee Lo to turn around and that is it, but Mackenzie has a team. Blake said he is loving the Harry Potter vibe, but Christina said he looks like Justin Bieber a little bit.
The last singer tonight is Julio Cesar Castillo. He is the first singer on The Voice to perform his blind audition completely in Spanish! His Dad is diagnosed with epilepsy, so it is hard for him to find a job, so Julio and his siblings are the working ones in the family. He sings "La Bamba" and he sounds very good, but can he make it work in English. He gets Blake to turn around early and Cee Lo turns around right at the very end! Blake said he has a very strong and technically great voice. Cee Lo said it was a great moment for the show and different is what he does. Julio picks Team Blake.
For tonight, we saw Team Blake and Team Christina add two singers and Team Cee Lo add one singer. Remember, there will be a special night of The Voice tomorrow night at 8/7c on NBC.
The Voice airs Mondays and Tuesdays at 8/7c on NBC.
Follow Todd on Twitter: @tbetzold