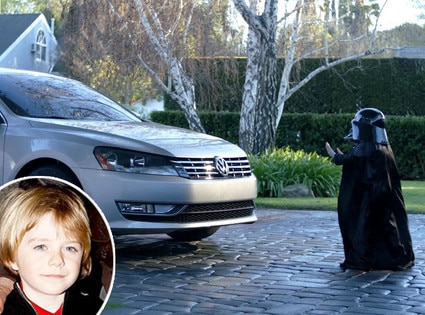 Volkswagen, Sean Gardner/Getty Images
May the force be with Max Page.
The 7-year-old actor, who may have stolen your heart without you even knowing as Little Darth Vader in Volkswagen's big Super Bowl ad last year, is scheduled to undergo open heart surgery.
And this isn't the first time.
MORE: Did Li'l Darth Vader Make George Lucas Big Bucks?
Max, who gets to show off his adorable face as Reed on The Young and the Restless, was born with a congenital heart defect and has had multiple surgeries, according to CBS.
Doctors at Children's Hospital Los Angeles will operate Thursday to replace his pulmonary valve and repair a hole in his heart. Max is expected to be hospitalized for about five days.
In an email to Deutsch LA, the actor's mother, Jennifer, recalled what Max said to her about his latest surgery.
"He said, 'Mom I don't have a choice. I have to go through it. I don't like it and it's still scaryâ€"but I have to. So I think I might as well go through it with a good attitude,'" she wrote. "So as we hop on Max's coattails to go on this rideâ€"we too, shall do it with a good attitude. Though we will still tremble with tears and have our overwhelming momentsâ€"we will focus on the 'CAN DO' and enjoy our Fun Up [Max had said they needed to 'fun up' the place] House."
Suffice it to say, we wish Max and his family all the best.
â€"Additional reporting by Holly Passalaqua