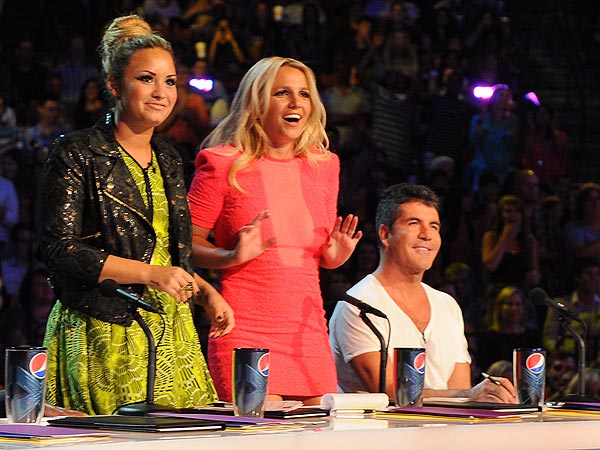 From left; Demi Lovato, Britney Spears and Simon Cowell
FOX
It's
Britney
time!
The superstar is making her long-awaited debut on The X Factor Wednesday night (8 p.m. ET) on Fox, taking her spot next to Simon Cowell, L.A. Reid and fellow newbie Demi Lovato.
Now it's time to judge the judge.
The first contestant to take the stage was nursing student and mom Paige Thomas, 21, of San Antonio, Texas, who performed Mary J. Blige's "I'm Going Down."
"You are so bright and beautiful on stage and you exude so much confidence. You're flawless," Spears said. When it was time to vote, she added, "Holy cow, yes."
But it didn't take long for Spears to get sassy. When Shawn Armenta performed his own song, "Candy Girl," the entire arena seemed to be in disbelief.
"I want to know who let you on stage," Spears said. "I feel uncomfortable with you even staring at me."
Then came a montage of comments Spears made to various less-than-stellar contestants: "You need to practice more," "The singing came in and it wasn't very nice," "You need a new teacher to teach you how to sing," "I felt like I was listening to Alvin and the Chipmunks."
Was she mean? Or was she "honest" with her appraisals of aspiring singers hoping to impress her with their talent?
We want to hear from you while we watch together! Tweet @peoplemag on Twitter or share your take about Brit in the comments section below. The best Tweets and comments will end up right here on PEOPLE.com.
What are you waiting for? Join the conversation now â€" and check back through out the show for updates. Caution: There will be spoilers!
• "OMG! @britneyspears makes Simon look like a kitten!!! I love that she's so honest! She makes this show!!! @peoplemag #xfactor," Tweets Patrick Dizon
• "Love how @britneyspears is handlin the untalented performers. Cant wait 2 see her take down the bank teller #XFactor @peoplemag," Tweets Meg Walsh
• "@britneyspears has THE most priceless facial expressions! I'm dying over here!!!" Tweets Kesley Zahn